Twopenny HangoverPhil Jones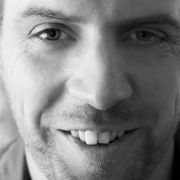 Twopenny Hangover is a means by which I can share my enthusiasm about the lesser-known music makers and record labels, of yesterday and tomorrow, which I feel others may come to love as much as I do. The show goes out live on Monday 7-8 PM UK time/8-9 PM CET on www.radiojazz.fm, based in Warsaw, Poland. Expect primitive horn blasts, devotionals, bedroom producers, dissonance, private presses, field recordings, basement jams and long-vanished orchestras.
If you think you have/make something I'd be interested in, I'd love to hear it.
If you have any feedback, questions or comments, feel more than free to drop me a line.
www.mixcloud.com/twopenny_hangover
www.facebook.com/twopennyhang
O autorze:
Phil Jones – Some time around Christmas 2003 Phil Jones walked into Jazz Radio studios on Krzywickiego with two friends to sell a pair of gramophones and walked out with a radio show.Since that first show (Klubowo Jazzowo), no one's summoned the courage to kick me out and so, some 16 years later, I'm still at it.It's probably fair to say that my tastes are broad, and not always universally shared, but I'm extremely grateful for the opportunity to still share my passion for lesser-known musics.As they say, "the artist is a horse, and the label is the stable", and I try to spread the word about these wonderful people in our music community who continue to support the musicians and producers, often (if not always) at a financial loss.Since 2013 I've been doing my Twopenny Hangover show—a mix of the old, new and yet-to-be; experimental, folk, underground pop, electronic and many other musics jostle for space in the 1 hour program. Now, I've been given the chance to reprise the 'Jazz Room' show, which ran from 2006-2009. The show coincided with the busiest part of my dj'ing activities, and it featured many guests live in the mix, who then came to play for our crowd at the much-missed Pruderia club in Forty Mokotow, and indeed all over Poland during those long weekends. The show attracted a loyal following from around the world, and some of those friendships exist to this day. I'm really excited to revive the show, and bring lots of new music to the formula. The idea is to mix dancefloor Jazz and Afro-Latin music with contemporary releases, and also the essence of underground/non-commercial Soul, Funk, Disco and Boogie. I've also loved avantgarde and spiritual Jazz since I was a teenager, so this also got played a lot, and will continue to in the show's new iteration!Twopenny Hangover airs on Tuesdays at 9pm CET and Jazz Room on Thursdays at 8pm.